If
ya'll remember my very first designer bag - my dearest
Reed Krakoff Uniform Bag
in black, you will now know that i have returned it back. First of all it was because the sewing around the handles were ripped loose, so first of all i went back to Collage so they could send it to reparation. about a week after they called me from collage and told me that they couldn't repair it because the "værkste" was closed. They had actually sent my bag to the states just to get some stitching done … wow… I asked him to hold my bag for a while because i live far away and don't come by often. I did come around christmas but instead of deciding of returning the bag or make them find another place that could repair it, i fell in love with another bag - more precise, the
3. 1 Philip Lim Pashili Shark Embossed Large Satchel
in black. They only had the small one in black so I asked them to write my name up for the bigger one. about a month later they called me a told me that they do not sell anything from Philip Lim anymore, but that they would gladly help me find the bag.
I
went to Copenhagen yesterday well knowing that was
the last day of the january sale spree, but i did not know that it was that big :O Copenhagen Fashion week just started yesterday so the streets are quite crowded. To walk around was just possible on the streets because all the department stores have 70% off almost everything and therefore when going in, it was like walking around surrounded by buzzing bees. My jacket is quite big so i feel like bumping into everyone even if i don't, but somehow i end up being the one apologizing well knowing that the other part is at fault. I actually experienced that many does not simply apologize, hold the door or any other kind gestures. at a few times today i actually happened to see how rude some people actually can be. I actually don't know why, but at some point i have thought it was some kind of a "culture" in Copenhagen to be more straight-forwarded about some things. When arriving to the central station i got stuck in an elevator with a bunch go other people. It had almost reached the door on the first floor but got stuck halfway… I think many were drowsy at some point because at first some started to wave to people on the other side, calling them over only so they could bent down an look inside the elevator like we were some kind of lizards on display. They eventually left one by one, and i started to move forward to the alarm button, but another person was after than me. He pushed the button a single time and i started to ring… and after a few second the elevator music started again. He pushed it for the second time and again nothing happened. He got mad, started to curse and moved back and forth. I reached for the button and held it for 5 sec and then the call got though. A woman asked us if we were stuck, and obviously he yelled so loud she couldn't hear anything and asked him to calm down and tell her if he was stuck or not. He cursed and shout " YES THE #"%#&#" WE ARE STUCK IN HERE, WHY THE
%"#%& WOULD I CALL FOR YOU THEN?!. She just said: "oh well … Somebody will come in a minute!, and when she hung up, the man shouted "hallelujah" with his hands in the air. Just there i noticed that he had a strong smell of alcohol and also that he was i guy i met earlier in the train. Just before arriving at the station, he stood with his wife and kid, waiting for the train to stop. The girl sang for herself and her dad asked her to ship up because it was the quiet zone, but she told him that they were in the hallway so she could sing if she wanted to. He turned around lifted his hand like he was about to hit her, but he only did it in threat and and turned around again. The mother just said jokingly that he shouldn't hit her here, because they were in a train… I was quite shocked to hear a mother say that and did not know what to think…
A
man came by and opened the door for us, but i had i ask him to pull me up because i could barely reach the edge with my foot. I stretched my arm, but he just he let me hang there for a few seconds before i grabbed my arm and pulled me up.
I hurried inside the central station, met my bf and stopped by Matas as the first place. There was A HUGE SALE !! There was so much!!!!! I bought:
hair dye from LORÉAL in the color 740 "Flaming Copper" - 30 kr
mosquito spay - 20 kr
2 PLASIR face creams and one eye cream - 20 kr each
O.P.I nail laquer in the color - 10 kr
Showercream - 10 kr
I'm really satisfied with my purchase but i'm really annoyed about the customer service and it's not the first time. I think the shop assistants has to know their brands better! I noticed that there's only a few PLASIR products are fragrance-free and yet i asked the staff if an allergic like me could use "a-random-Plasir-face-cream-I-knew-was-fragranced" and she told me quite assured that it was "TOTALLY FRAGRANCE FREE FOR SURE". I pointed out that this one wasn't and then she said that there was some "few" of them weren't… Wjhaaat ?!, R U QUIDING MI !? Last time i naively trusted them my lips got so chapped that i bleed, the same happened to my scalp and the eye-brightening illuminator turned my eyes blue and swollen. It's actually disappointing that they don't have standards for service. They should know this because allergy is quite common in Denmark and quite many has sensitive skin too. There are already many brands without fragrance and i just wished that the staff would be better informed about what hasn't and what has. I think i'll write them an email and next time i'm going to tell you what a single email letter can do ;)
Afterwards
we left Matas and found a bench closely by and ate some late breakfast. A guy beside us was asleep and by the looks, he's supposedly a vagabond. We chatted for a while and noticed that a train conductor was watching us - i thought he was, but another man, a service staff, came by and joined the man. after a few minutes two civil-clothed police men came with rubber gloves. They shaker the man to wake him and told him to leave immediately. He couldn't speak danish so they told him in english to leave. As he was about to gather his stuff they searched his backpack, threw something out in the trashcan and pulled him outside. At the meantime i just couldn't stop eating like i was the man's accompaniment or something… An older lady came and wanted to sit beside me but i took my hand under her butt and pushed her, because i noticed that there was bird shit on the seat. I explained myself and she sat on the other side instead. After we finished eating, packed our stuff and was about to leave a young man came and sat on the bird shit… i did not even have a chance to warn him before he placed his ass on it…
We
went downtown to Magasin at Kongens Nytorv and after we went to Illum. We went indside The Collage and finally after such i a long time i met Jeppe again. Jeppe is the shop assistant I met the day i bought my REED KRAKOFF UNIFORM BAG and ever since that day, i haven't met him - not even once. He recognized immediately and after a shot conversation, i remembered that they had a 70% off sale on a few bags and asked him where i could find them while he wrote down some names of places that might have them Philip Lim bag. I looked around the whole shop and there was a black Cucci, a fury Mulberry, some others not remarkable enough to remember and then there was the Uniform satchel - my Uniform bag in red, which i after some consideration bought.
As i have mentioned earlier, I
LOVE
the python one, but it cost like $4.900.....
hey i got the red one ! close enough ;)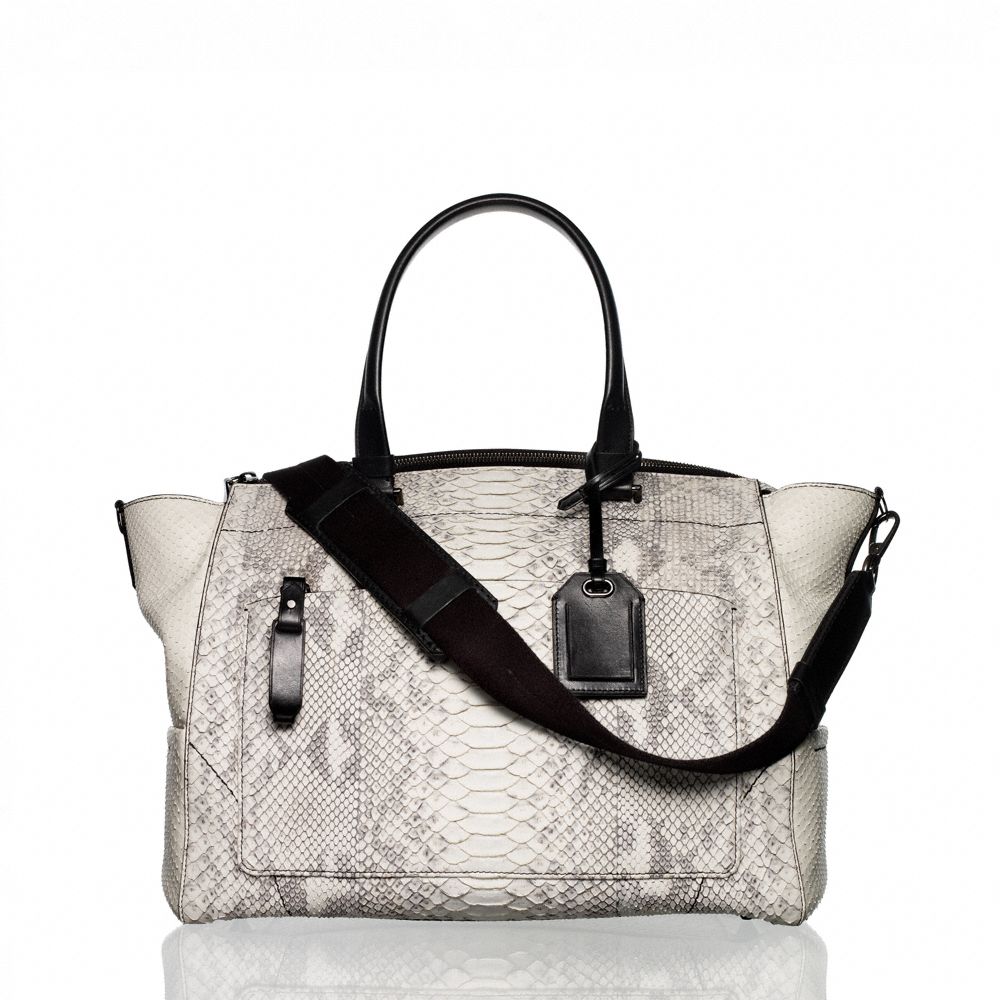 I been drooling over the RK Mini Atlantique model but it cost even more than the uniform bag though it's three times smaller!! If i was a billionaire i would buy one in each available color !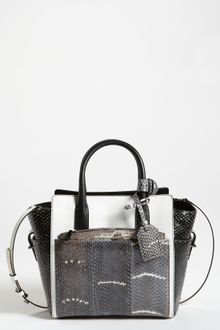 But Hey ! I got a new bag!! And Jeppe even gifted me a free bottle of impregnation spray!! :D
Considering the size and the prize i think my next bag has to be the Philip Lim one in either green or bright yellow, but i'll have to hunt for that one because it isn't available everywhere... :(
From
there I went to the Disney store to look for mugs, but they did not have the Avengers mug anymore. They had a valentine theme with heart mugs and much more. Then we walked to Louis Vuitton, which i visited with no fear like time before i went there with m aunt, and found two adorable bags in eye-brightning colors, but they were not on sale. We walked to the SØSTERNE GRENE boutique which is a place were they sell any kind of stuff. it's like America's "one dollar shop", but here the price vary. I bought some small lockets, a headset (I lost my other one in
school T___T), and at pack of HELLO KITTY wet wipes.
After that we went to H&M Men and I bought a pair of jeans for myself. It doesn't make sense why i went to a men's store to buy jeans but hey, they fitted me and were 75% off. Actually i tried to find something for my BF, but unfortunately there wasn't anything for him - or not in his taste in particular.
We went down to get a cupcake from Agnes, because my cousin gifted me a coupon for a mini muffin. On the way we found store i had been looking for. It's actually just a small jewelry shop but they have some unique earrings. ZARAH VOIGHT is one of my favorite jewelry designers and i had finally found her atelier!
unfortunately i did not feel like buying anything and went on to the cupcake store. after picking up a cute, small cupcake we went to Restaurant AMALFI to eat lunch. We had bought coupons to that place but even though we had them open via an app on our smartphones, they did not accept it but the waiter offered us that he would take 50% off the recipe. We both ordered a two course lunch. He got Caprese Nostra as appetizer, which is tomatoes, basila,buffalo mozzarella,





Bistecca Amalfi
which is Roast beef fillet with vegetables of the day and sauce.
I got
Risotto Portobello
and
Piato di salmone
which is roasted salmon pave with truffle rigatoni and as stupid as i am i ordered a Tiramisu for dessert. I'm can't eat cream so that that would be like to shoot your own foot (a danish saying).
The place was quite "white" but yet cozy. We used the time to talk and at some point we both started to look down on our phones. He interrupted the silence by saying that we look like a couple he once saw: a couple that would play games on phone instead of enjoying another person's company. We started to talk again and discussed about being bored/annoyed by each other or just being bored by anything. We thought that we needed to do something else than the usual when we go out together. We always eat out, watch a movie or shop, so we put up a list of things we wouldn't like/would find boring to do. We had a great laugh about it and when we left, there was still some time before i had to leave for the train. We decided to do one of the things we wouldn't like. come to think about it, it's actually like a quest. He had to drink a cup of coffee (he hates coffee) and i had to drink a coke (can't drink it because it will make my eyes wet). We went to a cafe close by, which it's actually the same cafe we went to on our first date, and i ordered him a vanilla latte which i don't find bitter at all but delicious, but it was too bitter for him so i drank about a had of the cup for him. They did not sell coke so i'll have to do my quest another time…
On the way back to the station we came by a TIGER-store and i i was gifted some extra lockers and a double jackstick.
I came home, really tired, but managed to finish my homework before sleeping. Let's say it like this. I had a wonderful day. And i even filmed a quick haul for what i bought that day.




Oh ? I did not mention the shoes earlier ? It's because i'm saving that for another time. This blog post is long enough already ^^


Good Weekend guys ! and Happy Lunar New year. I know it's not this weekend but they celebrate it here in Odense this weekend. It's the time to be thankful for everything. I'm thankful that somebody did not get mad at me because of my shopping habits - well he did get angry :b